EXPEDITION CARDS

These unique works of art in postcard form were created by artist Gregory William Frux
to help subsidize various climbing and artistic journeys. Each set went on sale before the trip-
and was mailed to sponsors from significant locations during the expedition.

Much of the artwork on this page is available for puchase. Email me for details.
Peruvian Andes 2007 Expedition
fund raising for microcredit project in Cuzco, Peru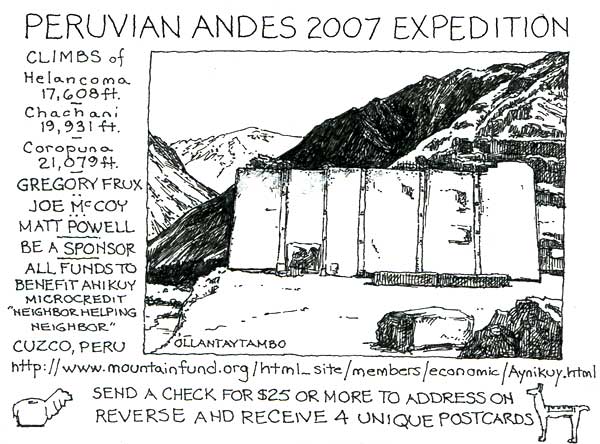 participants donated $25 or more and recieved four unique art postcards from our expedition
Expediton Sponsors: Audrey Anastasi, Robert Bedford, Matt Burd, Phillip Erard, Linda Finne
Dina Friedman, Gregory Frux, Marilyn Goldstein, Paula Gorman, Robert Gould, Gil Kessler,
William Kahn, Craig Laub, Joe McCoy, Roxanna McDade, James Morgan, Janet Morgan,
Michael Morris, Matt Powell, Adeline Quinn, Art Schanz, Stephanie Solt, Tammy Wetzel
---
additional art cards below:
Eastern Sierra Expedition August - September 2006
Climbing project, with summit attempts of major mountains in Eastern California and Nevada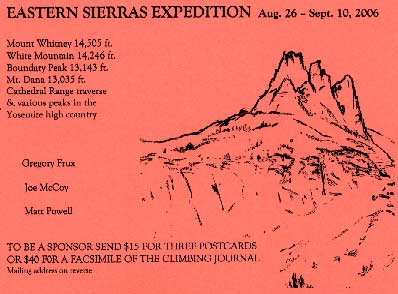 Unicorn Peak, Yosemite National Park
Three Cards:
-Yosemite high country traverse of Unicorn, Cockscomb and Echo Peaks,
with new Yosemite stamp, posted at Tuolemne Meadows Post Office
-Boundary Peak (high point of Nevada) and White Mountain
(high point of White Mountains and 3rd highest point in California)
with new Bristlecone Pine stamp, posted from Owens Valley
Mount Whitney (high point of California), posted at Death Valley Post Office
with new Death Valley Stamp (lowest point in Calfornia) or Pacific Crest Trail Stamp
Maria Henle Harriette Michaels
James Morgan Adeline Quinn Randy Polumbo
Joanne Shaver Marion Wirick
---
Death Valley National Park 2006
Cards and covers created to support artist-in-residence project
for Janet Morgan and Gregory Frux, posted from Death Valley and Darwin Post Offices
---
Bugaboo Range, British Columbia July 2004
two unique cards mailed from Radium Hot Springs,
plus an additional card created to publicize the offering.
---
Bolivia, June 2003
five unique cards intended to be mailed at various points on the expedition from La Paz.
Expedition sponsers recieved the cards reporting progress
of the adventure posted from La Paz.
| | |
| --- | --- |
| Card B1. Pachamama on Condoriri. Scratchboard drawing by Janet Morgan. Evocation of Bolivian indigenous people's Earth Mother Goddess. | Card B2. Condoriri. Mountain famed for its beauty. |

Card B3. Map of Condoriri Basin This was our first area of climbing in Bolivia's Cordillera Real.
Because maps remain sketchy, some of the altitudes are incorrect!
| | |
| --- | --- |
| Card B4. Sajama. Highest peak in Bolivia. | Card B5. Condor's Eye View. |
Mount Bona, May 2001
eight unique cards mailed at various points on the expedition,
plus an additional card was created to publicize the offering.
Expedition sponsers recieved the cards reporting progress of the adventure.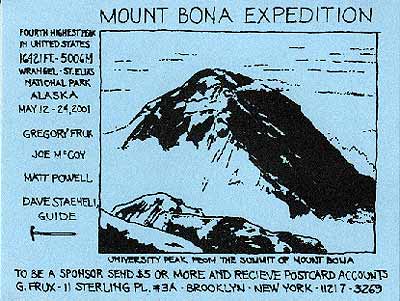 Expedition publicity card. Mailed to about 300 prospective sponsors.
This card won prize "Best Conceptual Award" in postcard exhibition from
Steamboat Springs Arts Council, Steamboat Springs, Colorado 2001
4 1/4" x 5 1/2" 70 available



Card 1. Flights from New York to Anchorage
4 5/8" x 5 3/16" 9 available


Card 2. Some Numbers A statistical analysis of the odds
of success, based on one in four day s of bad weather
while varying the number of climbing days.
Authored by mathematician Gil Kessler.
4 5/8" x 5 1/4" 8 available

Card 3. Drive from Anchorage to Chitna,
Fly to Glacier Base Camp
4 5/8" x 5 1/8" 10 available

Card 4. The Goddess of High Altitude Hallucinations,
from a painting by Janet Morgan
4 5/8" x 5 1/8" 9 available

Card 5. Possible planes used to fly to and land on glacier.
4 5/8" x 5 1/8" 7 available

Card 6. Planned Expedition Route
4 5/8" x 5 1/4" 12 available

Card 7. Diagram of crevasse rescue system
4 3/4" x 5 1/8" 10 available

Card 8. Drawing of summit dome Mount Bona (5005m)
6 1/8" x 4 5/8" 7 available